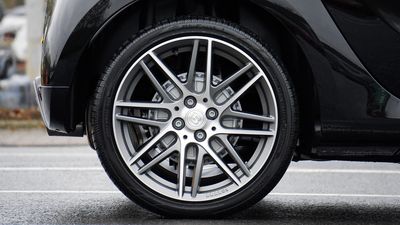 Cheap Tire Stores Near You
Tires have become more expensive these days, especially since the price of oil rose several years ago. It's impossible to avoid the need for tires. You can maintain proper tire pressure and have tire rotation on schedule, but at some point they will need to be replaced. You definitely don't want to be driving on bald or worn down tires, it poses a great safety hazard. There are so many tire choices and while some may be super pricey, even modestly priced tires are going to be a pricey part of car maintenance. While you don't really want to buy the cheapest tire you can find, a good quality brand bought from a cheap tire store near you is the way to go. How do you find the best cheap tire store? Let's look at some of the best ways.
How To Find Cheap Tires Online
Sure, there may be some low-priced tire stores in the neighborhood, but driving around town, going inside, and waiting in line to ask how much is very time-consuming. You also risk having to deal with a pushy salesperson trying to upsell you on several shiny objects that you're not sure you need. You'll want to check out at least 3 or 4 tire shops so this could quickly become an entire day or weekend's worth of effort to save on tires.
So, how can you find the best-priced tires without spending the day driving around town? 
The best way is to jump online and type in the search "cheap tire shops near me" and you'll be taken to several different websites that will help. You can type in your zip code and get a list of several tire shops, their web pages, and phone numbers to choose from. Many large retailers offer pricing directly from their websites, which is convenient. You may also want to call just to be sure they are in stock at the location you want to visit.
You'll have to be a little careful since most of these will be sponsored listings, meaning that the company has paid a price to be included on the list. This added cost is, of course, passed on to the customers. There is no other way. That's why it is often beneficial to try out a mom-and-pop or independently-owned tire shop in your town; they can very often offer a lower price.
You still have the opportunity to sort through the various shops, call them on the phone with your tire size and get some prices. Make sure that you have checked your tires to get the exact size, plus give them the make, model, and year of your car. When you're only calling on the phone, they will be working hard to get you into their store, so they'll be quicker, give a good price, and only a quick sales pitch.
Make sure that you ask all of them if installation, mounting, balancing, alignment, flat repair, and warranties are included or extra. This can make a big difference in the final price since they can gouge you on the services, so ask the questions before you show up. Some shops will only quote an all-inclusive price, while others will try and be sneaky, so ask to be sure. Also, be certain to ask the name of the employee you are speaking with, so if you decide to go to that tire shop, you can be certain that the final price is locked in and doesn't change when you show up.
Tire Brand Manufacturer Websites
If you are not finding rebates or coupons at the tire retailers, you should check out the specific tire brand websites. For example, Michelin.com and Goodyear.com often offer promotions directly from their own websites, usually you will be required to buy the tires from specific tire shops or approved dealers, and then submit for the rebate online. You can sometimes get up to $200 back on a set of four tires!
Make sure to check the major tire manufacturer websites before completing your purchase, as you may be able to double up your savings.
TireRack.com Deals
Be sure to check out TireRack.com before deciding on a purchase. They offer many coupons and deals with tire manufacturers, but you will need to purchase the tires through Tire Rack, but if you're having trouble finding any rebates or coupons elsewhere, it is a good place to look.
Some wheel deals will be rebates in the form of Visa or Mastercard giftcards. The Tire Rack is a great place to check for tire coupons. TireRack offers free shipping on wheels, tires, suspension, brakes, and other parts on orders over $50.
Factors to Consider When Buying Tires
There are several national chains that will actually fix the flats of all their own customers and everyone else's customers for free. This is a major selling point that makes people want to buy their tires there. So check to see if the flat tire repair is included when you make your tire purchase.
In addition to flat repair, there are yearly rotations, changing into your winter/snow tires, and other services that can add up to a lot of money with some tire dealers but are provided free at others. These services should all be taken into consideration when you call them on the phone for quotes.
Once you've narrowed your search down to one or two tire shops, you might as well pick one and buy your tires there. There really isn't a lot more to be saved by visiting each one after you've done the research. If one provides a better warranty or covers more tire services, then that would be the 
Get Correct Sizing of Your Tires for Accurate Prices
Before you get started on your hunt for affordable tires, be sure you know the exact and correct size of the tires you need. Tires for a small sedan are generally cheaper than those needed for a truck, SUV, or van. The wheels will be a different size, and the tires will be made to different specifications. Performance tires are products specifically designed for high-performance vehicles. Therefore, you could probably guess they are going to be pricier than your regular all-season tires from big o tires.
You can determine the correct size of tires your vehicle needs by simply opening your driver's side door and looking at the door jamb. There should be a manufacturer's label adhered to the inside which will list the necessary measurements you need to know for correct tire sizing. It may also be located inside your glove box, inside your gas tank hatch, and, of course, in your owner's manual. 
The first thing you may see on the label or on the tires currently on your vehicle is a letter. The letter designates what type of vehicle these tires are fitted for, as in:
P for passenger vehicles
LT for Light Truck-metric
ST for special trailer service
The next numbers that follow identify the tire's section width in millimeters. This will be a three-digit number following the letters. 
Next, there will be a two-digit number that identifies the aspect ratio, in other words, the "height" of the sidewall. This will be expressed as a percentage of the section width. Last but certainly not least important will be the tire and wheel diameter. 
For example, a tire wall may say: P225/50R16 91S. In this case, the number "16" is the tire or rim diameter. So, which of these numbers is important when calling in or comparing prices online? If you're calling local tire shops, you can simply read off all the numbers starting with the letter, and they will know which numbers are what. If you are looking online to compare prices, you will need to know: 
Width, Aspect, and Rim size. These details will get you accurate pricing for your specific tire needs. You definitely want to be sure you've entered those sizes correctly. Some website searches also allow you to search using your vehicle make and model, and year to show you appropriate tire sizes and their prices. 
Choose Tire Type Based on Your Needs and Climate
You also should determine which type of tires you will need. This depends on your personal needs. If you live in snowy inclement weather, you will need different tires than someone who lives in a mostly dry arid climate. Tires are separated into three main types:
All-season tires
Winter tires
Summer tires
Tire prices vary depending on the type. For the most part, snow tires or winter tires will cost a bit more than all-season tires. If you primarily drive on regular highways and roads and only see infrequent inclement weather, then the best option is all-season, and it's what the majority of people will require. 
Local Tire Shops
Discount Tire Price Matching
After you've gotten prices and narrowed down and found the cheapest price for your specific tire, you think you're set to go, only to realize the tires you need are out of stock! 
Now, if you're in no hurry and got a bit of tread left on those old tires, you can have them ordered and wait, but if you cannot wait, there's a great option at Discount Tire. Discount Tire is dedicated to being the lowest price whenever possible, so dedicated that they will match any tire from any retailer. So, if you missed Costco's deal or another retailer has a better price, you can simply show Discount Tire the proof, which could be the Costco website. If you're shopping online at Discount Tire, you can just click the "Found it Lower" button. 
Maybe another retailer has a cheaper price, but their hours or location is less convenient for you. Check the stock at Discount Tire and get the price information and they will match that lower price, which is awesome. 
Discount Tire also frequently has rebate offers and coupons available. They are a great place to start your cheap tire search.
Costco and Sam's Club Warranty
Both Costco and Sam's Club have excellent reviews from customers who have experience purchasing tires and visiting their auto repair and tire installation departments. A big reason for this is their road hazard warranty. Costco's road hazard warranty is included in their already competitive price. That's right. Their road hazard guarantee does not cost you extra. Road hazard warranty is different than flat tire repair. While Discount Tires offers flat tire repair, road hazards covers more instances, such as driving over a nail or glass, or blowing a tire by hitting a road hazard on the freeway with no time to avoid it. Sam's Club offers the same level of warranty with just a $10 per tire upgrade. 
Sam's Club members can also enjoy the benefit of free flat fixes regardless of where the tire was purchased, which is pretty amazing, and a great way to get you in and buying a replacement or the next set of tires from them. 
The great thing about these warranties is that if there is less than 25% wear on your tire and they cannot fix it, they will replace the tire at no cost. At Discount Tire you can also pay for Road Hazard warranty with a $25 per tire fee. 
Walmart Tire Installation
If you've found a set of tires for an especially cheap price online, but need them installed, you can check out Walmart or Discount Tires. Walmart beats out Discount Tires with the cheapest installation price for tires purchased elsewhere at just $25 per tire. This is only $10 more per tire than what they charge for tires purchased through them. Discount Tires charge $35 per tire for this service. So, be sure to factor this cost in when determining the best deal for your tires. 
Military Discounts on Tires
Discount Tires offers a 10% discount on tires for all active duty military, veterans, and their families. This discount comes off right at the register or point of sale, and is beyond any rebates or coupons you may have found, so make sure not to forget to show your military ID and take advantage of an extra 10% off your tires at Discount Tires. 
Simple Tire also offers a military discount of 5% on tires purchased by active, retired, and veteran military personnel. 
Best Time of Year to Buy Tires
If you've got time or can plan ahead, the best time of year to buy tires is in the Fall during Black Friday sales events. A few suppliers stand out as the best deals around, especially during their Fall savings events. Sam's Club, Walmart, Costco, and Discount Tire are the top locations I would look for great tire deals specifically during Black Friday or the entire month of November. Most of these deals only apply when buying a full set of 4 tires from the retailer, so also keep that in mind. 
Frequently Asked Questions
Who has the Best Price on Tires?
Once you know what specific tire you are needing, you can begin to compare prices, but don't be surprised if you find almost no variation in price among retailers and tire shops. In general, prices are the same among all major tire retailers. For this reason, what you should be paying attention to is rebates and special deals or price matching. The vehicle shop you ultimately land on will probably have the same price as others, but they may be offering a special rebate or they might offer a better warranty or free tire repairs; things that will save you money in the long run.
Should I replace all 4 tires or just 2? 
If at all possible, it is best to replace all of your tires at the same time, even if the wear is slightly less on either the front or the rear. The reason for this is that differences in tread patterns and depths can cause them to spin differently, which can possibly cause damage, but also can cause more rapid wearing down of your tires. 

Do all 4 tires need to be the same brand?
Under the most ideal circumstances, cars should be fitted with all four matching tires. There is more to consider than just tire sizing. The specific tire will also have the matching tread pattern, load index, and speed rating. It isn't completely out of the ordinary to have slightly different tires installed on the same vehicle. This may be due to lack of availability or for certain specifications, however they must be of course the correct size and diameter for your vehicle.  
What is the average cost of inexpensive car tires?
Tire prices usually run between $80 to $150 per tire for most vehicles. Of course, high performance tires or larger tires for heavy duty trucks will run significantly more. For the most common compact cars, the median price is around $115 per tire. 
What does Walmart charge to install 4 tires?
Walmart's most current prices found are $25 per tire for installation of tires not purchased through them. If you purchase the tires through Walmart, the price is even lower, at just $15 per tire. 

How many miles should tires last?
An average tire with average use should last between 60,000 – 75,000 miles, but there are a lot of factors to consider. Based on that mileage, a tire should last anywhere between 4 and 5 years. Driving habits, weather and road conditions all play into how long tires will actually end up lasting. 
Tire Shop Near Me – Give a Call Now!
cheap tires near me, cheap tires for sale, cheap tires online free shipping, discount tires near me, discount tires prices, discount tires online, buy cheap tires, buy cheap tires near me, buy cheap car tires, places to buy tires cheap